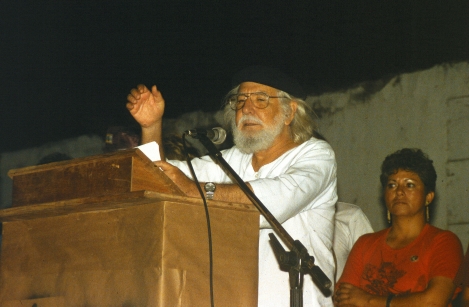 Sandinista Minister of Culture Ernesto Cardenal greets us.

Cardenal became well-known through his poetry and his establishment in 1965 of a Christian community and artist's retreat on, and named after, the archipelago of islands in Lake Nicaragua known as Solentiname.

Over time, he concluded that violence was justified in opposing the Somoza dictatorship, and if I am not mistaken, the retreat became a center of anti-Somoza planning and activity. It was destroyed by Somoza in 1977, and Cardenal went on to become the Sandinistas' field chaplain.

Here Cardenal tells us that there are no war-mongers in Nicaragua; that the Nicaraguan soldier is first of all a poet, transformed into a soldier by necessity. "Nicaragua's army could give poetry lessons," he tells us. He says that the peoples of Central America love each other, and that to divided them is a crime. "We want to convert the tanks into tractors," he said.

Perhaps it was at this event that Cardenal made an observation that I struck me powerfully: the majority of Nicaragua's people were under 15 years of age—thus the violence visited on Nicaragua by the Reagan administration is child abuse of the highest order.

I recall too another statement of Cardenal's, perhaps made here, that the virulence, hatred, and dishonesty revealed in Reagan's war against Nicaragua is evidence of a clinical pathology. I couldn't agree more.

When Pope John Paul II visited Nicaragua in 1983, he reprimanded Cardenal for his association with the Sandinista government.

The reprimand was actually for Cardenal's embrace of liberation theology, which encouraged campesinos to ask questions about God's plan for them here on earth. Naturally, this effort to empower the lay Catholic threatened the authority of the church, so the Pope essentially threw in his lot with the contras, who, like the Spanish fascists under Franco, could be counted on to affirm Rome's complete authority over the faithful. (The Pope's failure to condemn contra atrocities, even once during Washington's onslaught against Nicaragua's peasants, proves that his reprimand of Cardenal had nothing to do with the latter's embrace of violent resistance to Somoza. But, even though he was seriously confused, the Pope meant well.)

For more information on Cardenal, see The Gospel According to Solentiname, by Ernesto Cardenal; Letter to Ernesto Cardenal: Guns Don't Work, by Daniel Berrigan; and About Ernesto Cardenal for starters.

The evening concluded with the crowd proudly singing the Sandinista anthem, which includes the phrase "the yanqui, the enemy of mankind." Today, in view of the Bush administration's pathological comittment to war as a solution to all problems, the observation seems at least highly plausible, if not entirely justified.