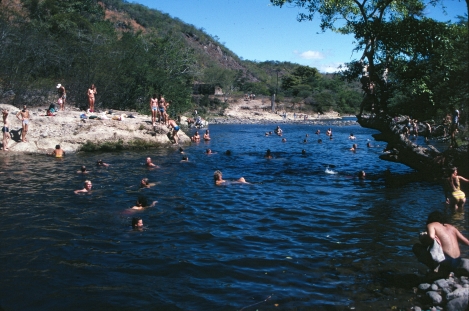 Wednesday, January 1, 1986

Today we went swimming. I don't have the name or location of this river.

Honduras is definitely out of the question, and we are not sure whether we will be allowed into El Salvador. Nevertheless, Ron and Katherina are now in the northern Nicaraguan port of Corinto, trying to charter a boat that will take us to El Salvador, or to Guatemala, or to Acapulco if Guatemala will not let us in. In fact, Guatemala immigration has denied us entry.

The Salvadoran committee has asked the march to send a few people to be with them as they create their own March for Peace. We decide to send 10 people to El Salvador. This was risky business for those who went. I was not one of them, and will present what information I was given by Sonja Iskov, along with her photos, on the El Salvador page.

On an earlier page, I said that I had earlier assumed the role of creator and enforcer of certain toilet protocols necessary to prevent the overloading of old sewer pipes in southern Nicaragua.

Yesterday I had gathered together a crew to handle our portable toilets: Tom (Norway?, Sweden?); Tom (USA); Geir; Unud(?); Live; Kirsten; Dean; Steven, Richard.

I assume that we were doing our best, but for some unnoted reason, I again had to give my fastidious co-marchers a stern talking-to:
"People who use the toilet are responsible for its maintenance. This means that monitoring the toilet is everyone's responsibility. If you see that the toilet is full, get someone to help you move it out, and replace it immediately with a spare at the end of the building.

"Then take the full toilet over to the large pit 40 feet to the north of the building and set it on the ground. Send someone to look for me immediately upon replacing the toilet. Your job is then finished."
I'm sure that my scolding had its intended effect, as my notes don't show that I had to assert myself again.