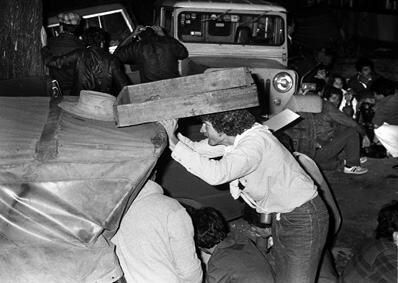 Photo by Sonja Iskov.

As the attack began, and the marchers headed toward the back of the hotel, I prepared to go outside to the front so as to get some good photos. Oddly, I was not the least afraid to do so.

So, there I was, heading toward the door, when the young and beautiful Barbara stopped me. "Bill," she said, "please don't go out there. You'll get hurt yourself. You'll just inflame them further."

She said this with such passion in her voice, and such concern in her eyes, that I just couldn't deny her effort to save my hide. So, I went back with the others, and missed getting great pictures like this one of our CODEPAZ friends sheltering themselves from the rocks being thrown by our attackers. As she photographed the attack, the intrepid Sonja must have been adept at dodging missiles heading her way—she reported no injury later.

As it happens, the documentary Viva La Paz itself shows only some of the turmoil within the Toruma—there is no footage of the attackers on the outside. The crew may have stayed inside to protect expensive equipment.

After Barbara was satisfied that I would not sneak out on her, she ushered Ollie Haskell to the far reaches of the hotel's backside.