On David Feherty
Copyright © 2009 by Bill Becker
July 16th, 2009.

David Feherty is a golf reporter for CBS. Not long ago he gained some notoriety with a comment in D Magazine:
"From my own experience visiting the troops in the Middle East, I can tell you this, though: despite how the conflict has been portrayed by our glorious media, if you gave any U.S. soldier a gun with two bullets in it, and he found himself in an elevator with Nancy Pelosi, Harry Reid, and Osama bin Laden, there's a good chance that Nancy Pelosi would get shot twice, and Harry Reid and bin Laden would be strangled to death."
The reaction to the violence of this suggestion forced an apology from Feherty—sort of:
"This passage was a metaphor meant to describe how American troops felt about our 43rd president," Feherty said in a statement. "In retrospect, it was inappropriate and unacceptable, and has clearly insulted Speaker Pelosi and Senator Reid, and for that, I apologize. As for our troops, they know I will continue to do as much as I can for them both at home and abroad." (http://www.foxnews.com/politics/2009/05/10/golf-analyst-feherty-sorry-pelosi-joke-dallas-magazine/)
What Feherty does for the troops is to visit them in Iraq and Afghanistan with the USO, and sponsor events at home to show his appreciation for their sacrifice. He has created the Troops First Foundation to help them as well: http://www.troopsfirstfoundation.org. I know this because a few donations I sent to the USO earned me a subscription to its new publication On Patrol. The second issue of On Patrol contains Feherty's account of a recent morale-building visit to Iraq: Life, Liberty, and the Pursuit of One Happy Hour: A Treatise. Feherty's "treatise" deserves an analysis in itself, but that's for a different post.
Liberals and progressives were understandably outraged by Feherty's comment, while conservatives and right-wingers understandably considered it a "joke."

Immediately after I came upon Feherty's comment, and before I came across his apology, I poked around the web and found Right Pundits. The blogger, Catherine Friar, defended Feherty:
"Of course what David Feherty said was really dumb. It was in poor taste and he shouldn't have written that joke into his article, period. But good grief, are these days so dark and the left so unhinged that every insult toward the democrats requires a pound of flesh rather then a public apology? How many times did we hear incredibly outrageous things out of the mouth of commentators when President Bush was in office? It was an everyday occurence! [sic]

"Though I don't condone what David Feherty said, I do defend HIM. He has been a long time friend of President Bush, a supporter of his administrations policies, and a witness to the chronic excoriation of the Bush administration by the left wing in this country that continues even to this day. It makes perfect sense that he would be mocking their feckless leaders, Pelosi and Reid."
Former Marine Bill Browning responded to Friar with his opinion that the "joke" was in bad taste, but that Pelosi is the most dangerous of the three mentioned. [It has been said that the first test of intelligence is the ability to distinguish between dissimilars. Perhaps Browning was having a bad day.] Contributor John reckoned that "What Feherty said, as usual, was funny. I suspect any apology issued was delivered with sarcasm."

But, Feherty himself does not suggest that his comment was a joke. It is, rather, a metaphor—Pelosi and Reid stand for President Obama, whom Feherty could not, without certain loss of employment, make the direct object of his suggestion. However sincere he was at the time, Feherty now says that the metaphor was inappropriate and unacceptable. Why? Because it insulted Speaker Pelosi and Senator Reid.

This excuse-cum-"apology" is problematic. The choice of two powerful legislators as "stand-ins" for the commander-in-chief makes little sense, considering that the vast majority of Feherty's fans would not understand the "metaphor" and would simply consider Pelosi and Reid to be Feherty's intended targets. By apologizing for using Pelosi and Reid as stand-ins, does Feherty mean that he should have used other, different legislators as stand-ins? Or, does he mean that being "metaphorical" was itself "inappropriate and unacceptable" journalism-that he should have just said outright what "our glorious media" refuses to report. Namely, that all U.S. soldiers in Iraq and Afghanistan harbor murderous desires toward their commander-in-chief.

And, it is in fact is an open question as to the actual number that do. Army soldier Mike said "I laughed my @ss off when I heard this joke" But he also said " I would never shoot an American, or anyone that doesn't threaten my life or the life of my comrades." Mike doesn't sound particularly upset with Feherty for lumping him in with his more murder-minded comrades, though.
Whether he is reporting accurately on the sentiments of the soldiers, or to a large extent projecting his own attitudes onto them, Pelosi as the preferred target of Feherty's generic soldier in the elevator is significant. Pelosi is clearly an example of the strong women whom millions of conservative-to-right-wing white men love to hate. Indeed, these men are lucky that Pelosi came along when she did. After Hillary Clinton finished playing her part in that role, it wasn't certain that there would be another political woman to hate with such intensity. We should realize, too, that if the Speaker of the House was a strong male, Feherty would not have expressed the "metaphor" at all, regardless of the sentiments of the troops. He would not have had the courage.

At a deeper level, such comments can be seen as a call for someone with poor impulse control to fulfill the repressed fantasies felt by these angry white men. Thus did the deranged Scott Roeder, encouraged by the right-wing talk-show drumbeat that Tiller was a "baby-killer" and a "murderer," murder abortion provider Dr. George Tiller. It is plausible on its face that Roeder fulfilled the subliminal desires of those who used such inflammatory language so publicly and so enthusiastically. Extreme right-wing avatar Ann Coulter, talking to Bill O'Reilly, expressed her own approval of the Tiller murder:
"I don't really like to think of it as a murder. It was terminating Tiller in the 203rd trimester."
When pressed by O'Reilly on this statement, Coulter replied:
"I am personally opposed to shooting abortionists, but I don't want to impose my moral values on others." ( http://www.youtube.com/watch?v=Zk2A0S9ST_A
(Note: I will not accuse Coulter of lying here when she says that she is "personally opposed to shooting abortionists," for two reasons: first, I do not know that she is lying; second, she might sue me for libel, which would break me financially. But, it is my personal belief that she is lying. Will she sue me for expressing my opinion?)
According to Wikipedia, "violence directed toward abortion providers has killed at least nine people, including five doctors, two clinic employees, a security guard, and a clinic escort." (http://en.wikipedia.org/wiki/Anti-abortion_violence#Murders)

One of the most vicious proponents of killing liberals is President Ronald Reagan's adopted son Michael: http://fair.org/take-action/action-alerts/talk-show-host-calls-for-murder/.

In July 2008, another deranged right-winger burst into a Unitarian Church in Knoxville, Tennessee, and killed two congregants before he was subdued by other parishioners. The AP reported that
"A four-page letter found in Jim D. Adkisson's small SUV indicated he intentionally targeted the Tennessee Valley Unitarian Universalist Church because, the police chief said, 'he hated the liberal movement' and was upset with 'liberals in general as well as gays.'"
Thus did Adkisson live out the fantasies of his "respectable" right-wing compatriots.

During the 2008 presidential campaign, this graphic in support of Sarah Palin circulated widely on the Internet. Note the silencer on the rifle.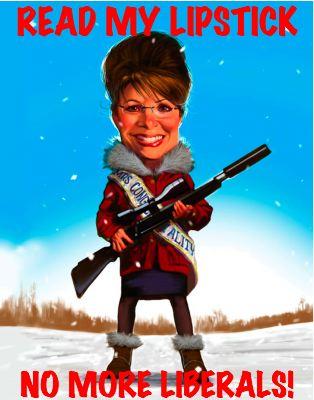 My point should be clear: the visceral, gut-wrenching hatred for liberals expressed by the American right gets liberals killed.

Now, I can imagine two responses by right-wingers to these facts. First, the number of liberals killed by deranged right-wingers is a tiny fraction of a percent of the American population. I can almost hear Catherine Friar, mentioned above, say "Good grief, do you bleeding-heart liberals always have to over-react?"

Second, I'm certain that virtually all of these right-wingers will assert that liberals express precisely the same kind of violent hatred for conservatives. I have not ever experienced that kind of talk from my liberal and progressive friends in person, but a young friend of mine tells me that he has; to the extent that he considers there to be a virtually perfect symmetry between the two sides. I can also say that when I read such suggested violence from my liberal friends on my facebook pages, I come down rather hard on them.

Naturally, I hope visitors to this site will contribute their experiences. If the devil is in the details most of the time, then there may be important differences in the manner and extent of conservative vs. liberal expressions of murderous violence—differences that may well explain the killings of liberals by right-wingers, as detailed above, and the apparent restraint exercised by liberals and progressives toward their conservative hate-objects.

I say "apparent restraint" advisedly. Perhaps liberals do kill conservatives, and the crimes have been covered up by the "liberal" media. Perhaps most right-wingers know at least one, maybe more, of their compatriots who:

1) have been killed by conservative-hating liberals; or
2) have narrowly escaped death at the hands of conservative-hating liberals; or
3) know one or more conservatives who have been so killed or narrowly escaped death; or
4) know someone whose cousin told them about such victims.

Thus, if you are a right-winger who has information about violent, liberal-perpetrated crimes like these, please send me the details. I would especially like to hear from your friend's cousin.