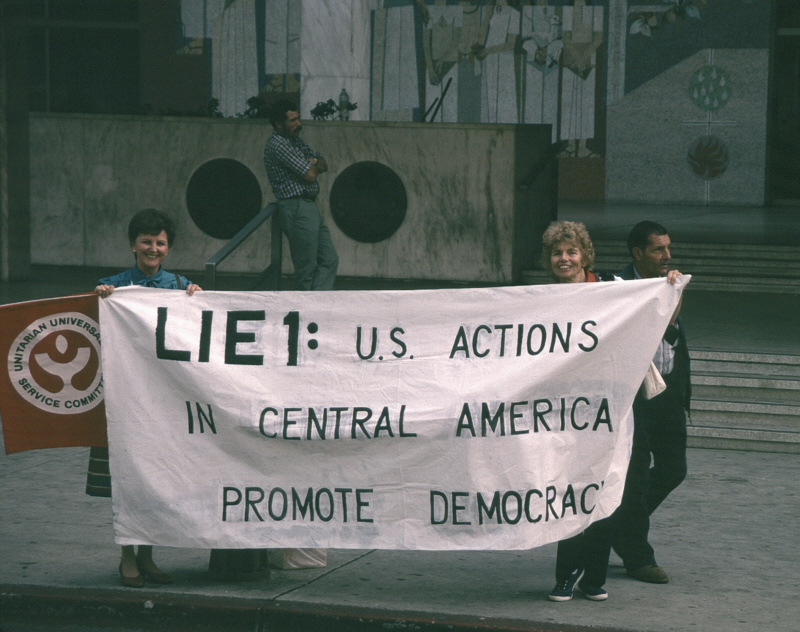 Fall, 1986. Emerson Unitarian Universalist Church member Carroll Trumbull, and UUSC staffer Fiona Knox in front of the Federal Building, downtown Los Angeles. I doubt that here they were part of the large demonstration of November 1, as shown in the following photos.

The Unitarian Universalist Service Committee has a long and honorable history in the struggle for human rights and social justice. The Southern California Chapter was a joy to work with.


1986 was an important year for the anti-intervention movement, and the demonstration shown in the next bloc of pictures was perhaps the most important ever to take place in the Los Angeles area. Quotes and details in the prefatory comments that follow are from various Los Angeles Times (LAT) articles that I still have in my files.

In June 1985, Congress had approved $27 million in "humanitarian" aid to the contras, but also forbade the CIA from any role in distributing it. The CIA was allowed to provide the contras with "humanitarian" intelligence on Sandinista troop strength and movements, however. The House also "rejected, 254 to 174, a Democratic alternative by Reps. Lee Hamilton (D-Ind.) and Michael D. Barnes (D-Md.) that would have provided $14 million in aid to Nicaraguan refugees rather than the contras." (House Approves Funds for Contras Aid Bill Passes Easily in Major Reagan Victory, June 13, 1985.)

1986 began with a 253-182 Democratic majority in the House of Representatives,and a 53-47 Republican majority in the Senate. Early in the year, president Reagan asked Congress for $100 million in economic and military aid to the atrocity-prone Nicaraguan contras, whom he had famously referred to as the "moral equivalents of America's founding fathers." In spite of this pedigree, Congress had prohibited military aid to the contras since 1984, when it was learned that the CIA had mined Nicaragua's harbors and sent its hired operatives into battle — without informing Congress. (One naturally suspects, but cannot prove, that had the CIA been more forthcoming, and informed the House and Senate Intelligence Committees of its plan to blow up the ships of nations doing business with Nicaragua — several European nations included — the lawmakers would have said "ok.")

Reagan sensed that by stepping up the rhetoric casting opponents of aid as communist sympathizers, he could eventually bend them to his will. Still, in early 1986, Reagan's shrill tone had offended moderate Republicans such as Senator Nancy Kassenbaum (R-Kan), who found the President's "simplistic reasoning highly offensive." Kassenbaum also said that she and two other moderate Republican Senators "could not support the bill in its present form." ( Reagan Under Fire for Partisan Line on Contras ; LAT, March 7, 1986.)

But, unlike the other two Senators, Kassenbaum succumbed to the Magic Salesman's charms just three weeks later, when she voted with the 53-47 majority to approve Reagan's $100 million contra aid request. 11 Democrats, all but two from southern states, voted for the aid, and 11 Republicans, all from northern states, voted against the aid. The Democratic-controlled House barely rejected the request a week earlier. ( Senate Approves $100-million Aid Plan for Contras ; LAT, March 28, 1986.)

I refer to Reagan as the "Magic Salesman" advisedly. He was a master at pushing the American people's fear buttons, and his avuncular manner reassured them that he was the only person standing between them and annihilation. Democratic lawmakers understood this magical power, and thus were always on the verge of caving. As Republican Rep. Guy Vander Jagt put it: "Democrats live in holy terror that the President will go on the tube and lambaste them for a vote. They live in fear of his communicative ability."

On the other hand, straight-out, old-fashioned bribery also works: "If you want a bridge in your district, if you want the Secretary of Agriculture to appear in your district, it's yours," [Rep. Michael Barnes (D-Md.)] said. "Anything you want from this administration ... now's the time to get it." (Democrats Swinging Over to Reagan's Contras Stand; LAT, April 15, 1986.)

And it all worked; on June 25, three months after Senate approval, the House caved and gave Reagan the $100 million he wanted. The vote was 221-209, with 51 Democrats voting with the majority and 11 Republicans opposing the aid package. California lawmakers voted along strict party lines.

Opponents of military aid tried, with and without success, to impose restrictions on the aid: the House passed an amendment to the bill "prohibiting U.S. government personnel — including military trainers — in neighboring countries from venturing within 20 miles of the Nicaraguan border." This because lawmakers feared the kind of slippery slope that led to the Vietnam debacle. And, because the contras had been accused of misappropriating their previous funds, an amendment was offered and defeated requiring an accounting of past allocations before the $100 million would be released. (Arms Aid for Contras Wins House Approval; LAT, June 26, 1986.)

The World Court agreed with the grass-roots opposition to Reagan's policies. On June 27, the International Court of Justice ruled that Reagan had broken international law, and called upon the administration to cease its support for the contras and also to compensate Nicaragua for the damage that the contras had inflicted. Among its 16 findings, the court ruled against the U.S. assertion that support for the contras was necessary for the "collective defense" of the hemisphere. The single U.S. judge on the court dissented on 12 of the 16 findings. Reagan thumbed his nose at the court, of course. (World Court Rules U.S. Aid to Contras Is Illegal; LAT, June 28, 1986.)

On August 13, after reconciling with the House version of the aid package, the Senate gave its approval. Because the contras had been accused of drug trafficking and human rights abuses, Senator Patrick Leahy (D-Vt.) offered an amendment prohibiting all CIA involvement in the war. '"I think it's an impossible situation" Leahy said. "Don't send them down into a sordid little war where they get tarnished with everybody else."' Leahy's amendment was defeated, paving the way for open and, except inside Nicaragua itself, unhindered CIA-contra collaboration. (I suggest that what to Leahy would be "tarnish," the CIA spooks would call "luster.") (Contras Aid Gets Senate Approval; LAT, August 14, 1986.)

Then, on October 5th, a Sandinista soldier shot down a contra supply plane using a Soviet-made shoulder-fired rocket and things really got interesting. The pilot, William Cooper; co-pilot, Wallace Sawyer, both Americans; and Nicaraguan radio operator Freddy Vilches all died in the crash. Eugene Hasenfus, an out-of-work-steelworker from Marinette, Wisconsin, was the "kicker," whose job it is to kick the supplies from the plane's open cargo door. Apparently, Hasenfus was not as sure as were Sawyer and Cooper that they were invulnerable to harm in this illegal contra supply operation; he jumped to safety using a parachute he had borrowed from his brother several weeks earlier. He was captured the next day.

Hasenfus was described by his aunt as "a good, jolly person and helpful in anyway he could be." "He has ... the greatest smile you would ever want to see," she added. ( Downed Plane Not Ours, Shultz Says; Survivor an Ex-Marine and Sky diver ; LAT, October 8, 1986.)

But, the Eugene Hasenfus shown being led into captivity by two Sandinista soldiers did not look particularly jolly. "... a [Nicaraguan] radio announcer, unable to hide his enthusiasm, described the captured man as 'tall, blond and strong, just like one always imagined a pure gringo would be.'" On October 11, Mike Wallace interviewed Hasenfus in his cell for the CBS program 60 Minutes. (Hasenfus: Nothing But the Fact, Envío Digital; Number 65, November 1986.)

News coverage for the next three weeks focused on whether the Sandinistas would put Hasenfus on trial; extensive analyses of the evidence found at the scene; Hasenfus's own statements; and what would be his punishment if he were tried and found guilty. The administration denied any connection with the operation, saying it was a civilian effort to keep the contras alive until congress approved funding for them. But, the operation had all the earmarks of CIA operation hidden beneath thick layers of civilian camoflauge.

On October 29, the Sandinista prosecutor formally charged Hasenfus with terrorism, violation of the law on public order and security, and illicit association for criminal purposes. If found guilty by the revolutionary tribunal, he could be sentenced to 30 years in prison. (Nicaragua Prosecutor Opens Case Against American; LAT, October 30, 1986.)

This was the overall situation on November 1, 1986, when some 5000-8000 peace activists walked through downtown Los Angeles to protest President Reagan's war. (Thousands Protest U.S. Support of the Contras; LAT, November 2, 1986.)

More details below.